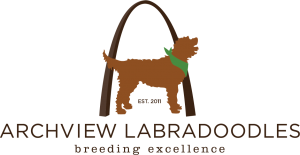 A puppy is a lifelong commitment. With that in mind, we do our best to make sure that each family goes home with the right puppy for their lifestyle. For that reason, our puppies are hand-selected for each adopter based off of several tried and true methods which we endorse. One of those methods is the Wendy Volhard Temperament Test. Learn all about this personality assessment and how it helps us guide you in the right direction with your puppy purchase in today's blog!
What is Personality Testing?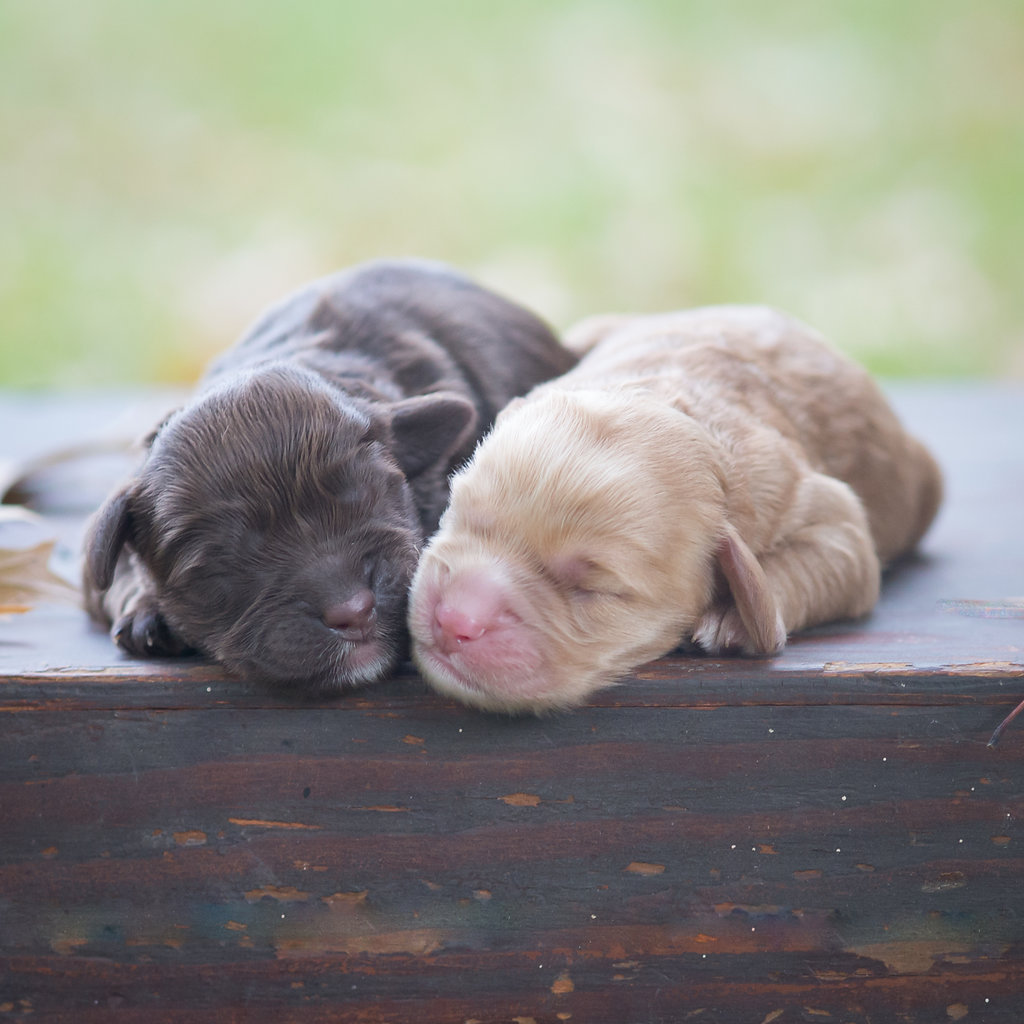 Just like humans, each puppy is unique and has their own little personality. Picking the right puppy for your lifestyle is a lot like picking the right piece of the puzzle! The personalities of the dog and his owner must mesh well to have a long-lasting relationship. As soon as our puppies begin to come into their own, we start analyzing each one for certain aptitude traits that will make them a good fit for individual adopters. We put our puppies through a series of ten tests throughout our evaluation process. Those ten steps are:
Social Attraction
Following
Restraint
Social Dominance
Elevation
Retrieving
Touch Sensitivity
Sound Sensitivity
Sight Sensitivity
and Stability
But What Do Those Things Mean?
Each of those categories has a specific set of guidelines that we follow when measuring their response rate. For social attraction, we are looking at the dog's degree of attraction or desire to interact with people. If you are wanting a family friendly puppy, you do not want a dog with a low social attraction who is more frightened by people than excited by them. When looking at following we are gauging the dog's willingness to follow a person and be alongside them.
When testing restraint we are evaluating how a dog might handle a stressful situation and where they fall in the social hierarchy. Are they the top of the pack and eager to assert their authority or are they content with being in the middle and get along with everyone? Social dominance follows in that same vein in that we are looking to see if a dog is willing to accept a human as the authority figure or if they are set on establishing their own dominance. Elevation, on the other hand, is the measure of how a puppy reacts in a situation where he has no authority.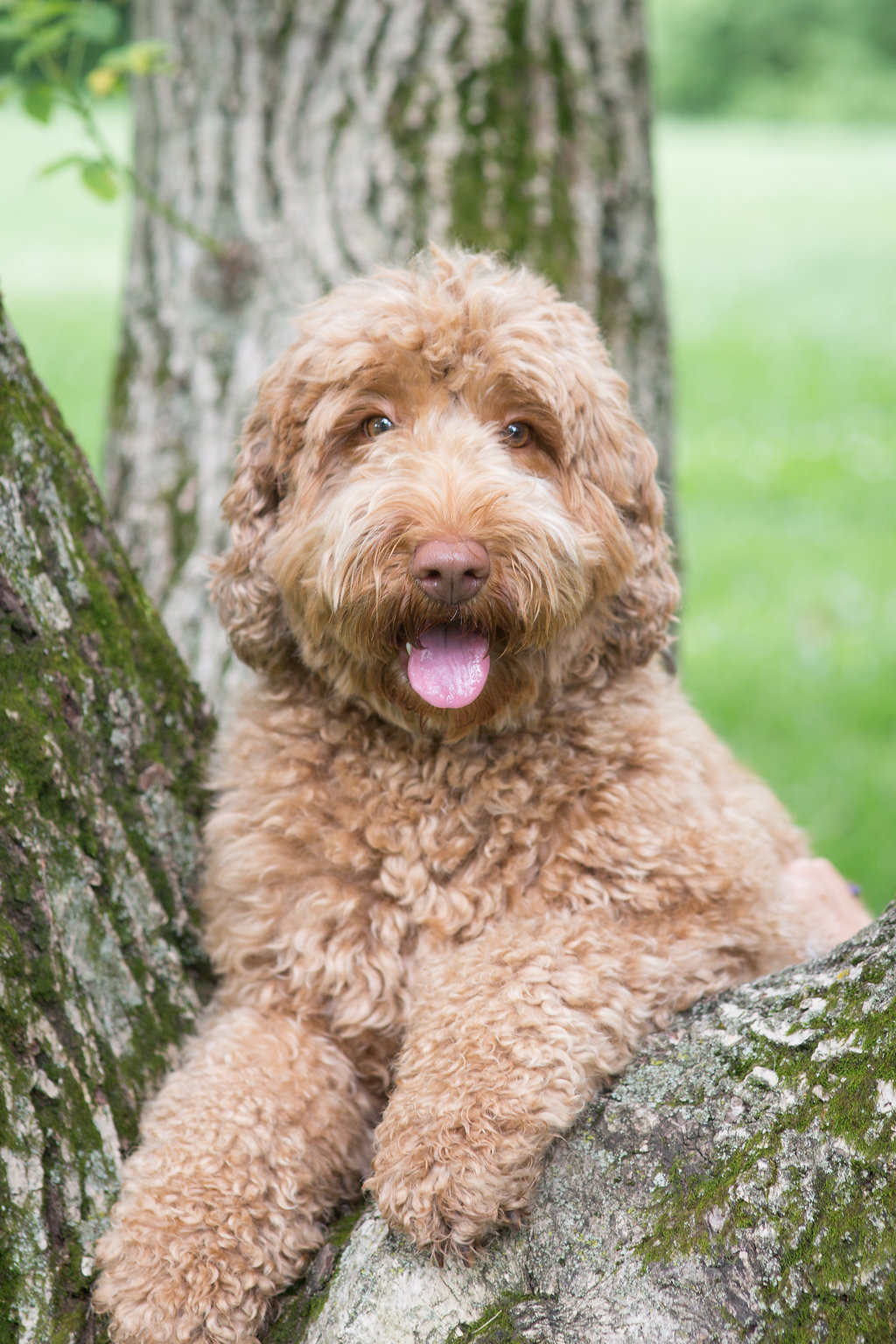 Retreiving is exactly what it sounds like: how willing your dog is to do something for you. We also measure the dog's stability which is how each puppy reacts when startled.
The three sensitivities are pretty self-explanatory. We observe each puppy to see how they react to unusual touches, sights and sounds. These three are especially important when evaluating what type of dog your puppy will grow up to be!
A Scientific Approach
Testing our puppies for each of these personality indicators is done in a quiet, controlled environment that is new to the puppies. We work with each puppy one-at-a-time so there are no distractions that could alter the results of the test. We also utilize a tester who is new to the puppy. By using a stranger, we are able to see the puppy's true confidence shine through, or lack thereof.
Each test has its own method. For example, when testing following, the tester will stand up and walk away from the puppy while gently encouraging the puppy to follow. We measure the puppy's response time to our leaving them. A puppy who wants to stay by your side is a more people-oriented puppy, while one that is more content to hang back may be more independent.
When we test touch sensitivity we press lightly on the webbing between each puppies' toes and document how they react. The tester will count to ten, while gradually increasing gentle pressure and take note when the puppy begins to react.
Scoring Each Puppy
Each test has a scale that we score our puppies on. We have included a snippet of the chart below for your reference: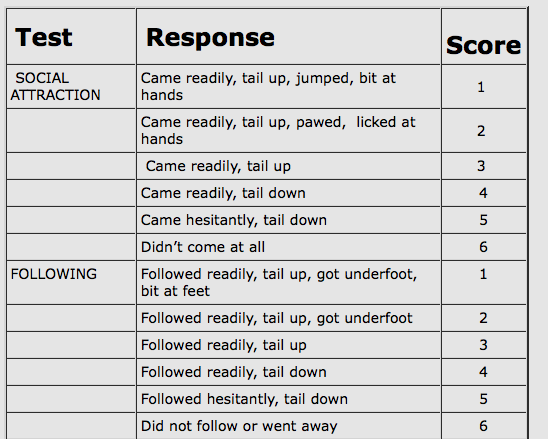 Puppies whose scores are mostly 1's are very dominant and will require a lot of training. These puppies are not well-suited for inexperienced homes and will require a strict regimen to keep them on their best behaviors.
If a puppy's score is mostly 2's, they are very self-confident and desire to be the leader. These puppies will not be a good fit for families with children or other animals. Again, an experienced home is best for these puppies.
Puppies who fall into the category of mostly 3's are high-energy who will need lots of exercise, but overall are great dogs if you have had a dog before. They might be a bit difficult to begin with, but can become awesome working companions for second-time dog owners.
The perfect family pet will score mostly 4's on his temperament test. They are easy to train and relatively quiet. These puppies are ideal for first-time dog owners, families with children or elderly people.
If your puppy falls into the 5 range they are going to be more on the timid side and will require special handling. They will be afraid of loud noises, new environments and unusual people. These puppies thrive in quiet homes, especially with older couples.
Last, but not least, are those puppies who score in the high 6's. You will find that these puppies are so independent that it will be difficult to bond with them. They do not crave human attention like a dog in the 3 or 4 range would. You cannot force a puppy to be cuddly and these puppies will never be the cuddle on the couch type. The best careers for these dogs are as guardians.
What Does All of This Mean?
At Archview, we would never allow you to pick a puppy based on looks only that would be a horrible fit for your family. This is doing you and the puppy a disservice. We pride ourselves on evaluating each application to the smallest detail and pairing them with the appropriate puppy that will fulfill all of their desires. We have an outstanding success rate and are so happy to see our puppies thriving in wonderful homes!
So if you are ready to start your journey into pet-ownership start off by checking out our available puppies and decide which litter fits your personal preferences. From there, you will fit out an application that helps us to get to know your family better and we will help you determine which puppy is the perfect fit for you.