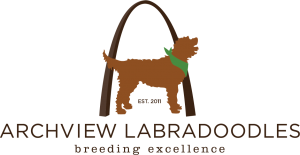 In an earlier blog, we discussed different items you needed to get in order when preparing to bring your new puppy home. While shopping for all the fun stuff is exciting, there are other things you should do before your new addition joins the household. Today we will discuss all the different ways to puppy proof your home to keep your puppy safe!
Chewing Champions
Your new Labradoodle will be full of energy and always looking for the next best thing to play with. Unfortunately, for your puppy that might be the remote or your favorite pair of shoes. Look around the room and evaluate it from a puppy's perspective. If it is eye-level, it could look like the fun chew toy of the day. Until your puppy has learned the rules of his/her new home, it is best to remove any temptation and hide those objects.
Things to look for include:
Power cords
Plug-in air fresheners
Picture frames
TV remotes
Cleaning products
Trash cans
Decorative pillows
And that is not all! Use your imagination and think like a pup when scouring your house for potential puppy pitfalls.
If You Love It, Hide It
Family heirlooms, antique furniture and cherished possessions should all have a special place in your home, but it is best if that place is far from puppy's reach for the first few months. Your puppy doesn't know the difference between toy and treasure. Placing those items out of sight will keep your pup out of trouble and your irreplaceable items safe.
When is it safe to restore these items to their proper place? That will vary depending on each puppy. Working with a reputable trainer is a great place to start! They will be able to assist you in gauging your puppy's maturity level and ability to refrain from chewing on or marking on your beloved objects.
Protecting Puppy from Hazards
Our houses are filled with items that can cause your new puppy harm! Just like when preparing your home for a new baby, it is important to puppy proof your house as well. Loose coins are a choking hazard, cleaning chemicals are poisonous and cat litter boxes, while not necessarily unsafe, are a disgusting yet very tempting object for your new puppy.
If you are a fan of houseplants, be sure to do your research and ensure none of them are poisonous to dogs if ingested. Bloke off doorways and stairwells that lead to parts of the home you are not ready for your new puppy to adventure into just yet. And make potential falls inaccessible to your new four-legged friend. Your puppy has delicate, growing bones and a bad fall can be detrimental at a young age.
Like with infants, you may find that childproof latches are necessary to keep a nosy puppy out of your drawers and cabinets. Keep the lids on toilet bowls closed to prevent your pup from picking up on bad habits and potential drownings if they were to accidentally fall in head-first.
Better Safe than Sorry
When in doubt, leave it out! If you think an object could be tempting or life-threatening for your puppy, it is best to put it out of the way for now. It is better to be overly cautious than to regret later on. Later this week we will discuss how to prepare your yard for your new arrival!
Still haven't found your furry bundle of joy yet? No worries! We have litters all year long and we know your new best friend is waiting for you. Check out our list of adoptable dogs here and don't forget to fill out that adoption application!