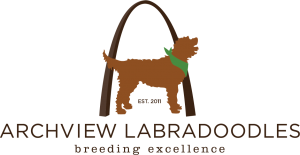 So you've decided to adopt an Australian Labradoodle? Congratulations! We know you will fall in love with this breed's temperament and disposition. Australian Labradoodles truly make wonderful family friends, and we are thrilled to help pair you up with your new pet. Before filling out your application, we encourage you to visit our Puppy Availability page to see our current and upcoming litters. There you can see parent photos, litter descriptions, due-dates of upcoming litters and photos of current litters. All of that information can help you decide which litter you are most interested in a puppy from.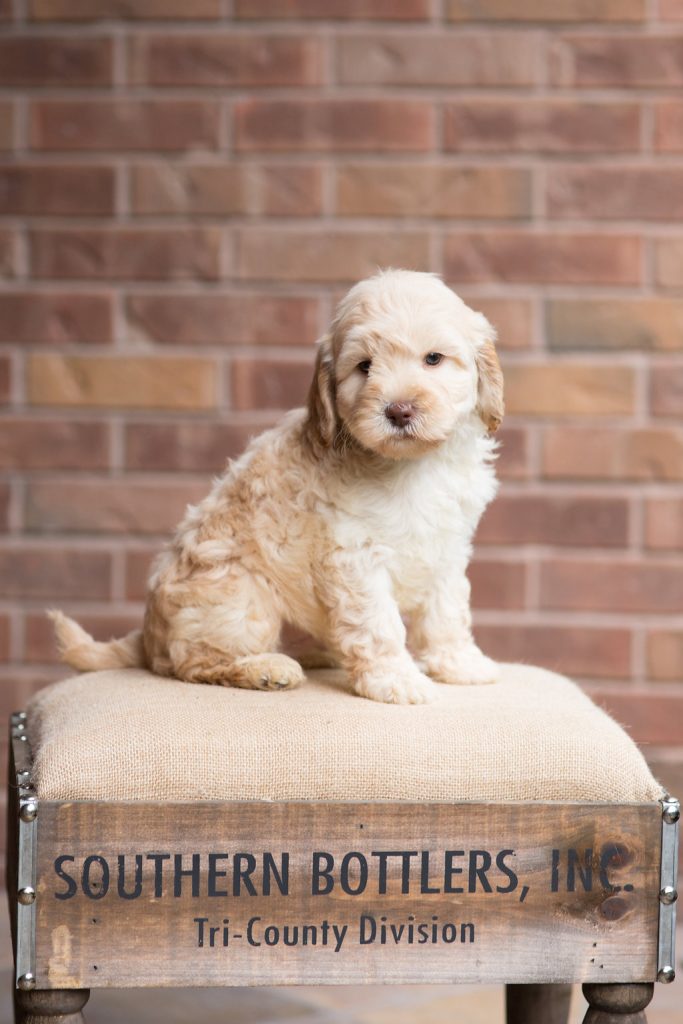 One of the biggest factors when picking a litter of interest is puppy size. At Archview Labradoodles, we breed miniature, medium and standard sized Labradoodles. While the sizes are different, the characteristics of the breed remain the same across all sizes. Picking a size truly falls in what size dog will be best for your family. We have outline some of our thoughts on sizing for you below!
Puppies in all Shapes, Colors and SIZES!
As we mentioned earlier, our puppies are available in three different sizes: miniature, medium and standard. Each size has an acceptable range which your puppy will fall within.
Miniature puppies will be 14-16 inches in height at their wither (shoulder) and will weigh anywhere between 15-25lbs.
Medium puppies will top out between 17-20 inches in height at the wither. Most medium females will fall between 17-19 inches, while medium males are on the higher end of the range at 18-20 inches. Expected weight for medium sized puppies is around 30-45lbs.
Standard sized puppies are the full-sized version of an Australian Labradoodle. These puppies will grow to be 21-24 inches tall at the wither and can range between 50-65lbs fully grown!
Thanks to SeaSpray Labradoodles for letting us use this great picture that shows all three sizes beside one another!
What Size Do I Need?
When picking the size that best suits your family, there are many things to take into consideration. Firstly, a smaller dog does not always mean they will be easier to care for. Australian Labradoodles are smart, vibrant and playful dogs! That personality is standard across all sizes. For some, size is personal preference, while for others it may be more of a necessity.
Many people who pick the Miniature or Medium Australian Labradoodles do so because of land/rental requirements. Those with smaller yards or who rent may find that smaller dogs better suit their home. Others lean towards the smaller dogs because they have small children and worry about large dogs with their kiddos. We want to emphasize that a Australian Labradoodle, no matter the size, will need to participate in basic obedience training to help keep all members of your family safe and happy!
All sizes of Australian Labradoodles love playing outdoors, but if you are looking for a more active companion, the larger sizes may be a better fit! Standard Australian Labradoodles make great running and hiking partners, but we can't discount the little guys in that area either!
How On Earth Am I Supposed to Choose?
We encourage puppy parents to think about the lifestyle they want with their pup and to start there. Sometimes people start with the idea that they may want a miniature Labradoodle and find themselves falling in love with a standard sized one.
If you still can't decide, feel free to reach out and we can talk about what size Australian Labradoodle will be the best fit for you. You can also chat with your dog trainer of choice or your veterinarian for more input!
In the end, no matter what size you choose we can guarantee you will be investing in a best friend for many years to come!