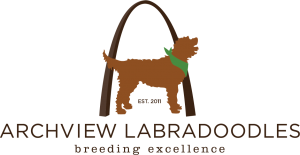 One of the best parts about getting a new puppy is committing all of your free-time to puppy play-time. Playing with your new puppy is a great way to help them acclimate to their new home and family, as well as begin to teach them basic principles of training. Here are four fun games that you and your puppy will enjoy with one another!
Pass the Puppy
Pass the puppy is a great way to teach your puppy the "come here" command, as well as get them nice and tired for an afternoon nap. The best part? It is SUPER easy and you can play it with just you and your pup or have family/friends join in.
If you have two or more people to play, spread out around the space you want to play in. Take turns calling your puppy with their recall command (oftentimes it is "Come" or "Come here") and when your puppy makes it to you, reward them with lots of love, scratches and treats! You can even add in a quick round of tug-of-war with their favorite toy for a minute or two as a reward. Then, take turns calling your puppy to you and "pass the puppy" around the room.
The point of this game is to not only teach your puppy how to recall, but to also get them to start focusing on their human when they speak despite the fact that distractions (other people, toys, etc) are in the room.
Hide & Seek
Remember playing this game as kids? Your puppy will love this game too! If your puppy already knows "sit" and "stay" then this game can be played with just one person. If they are still learning those commands, it is helpful to have a handler and a hider play along.
Instructr your puppy to "sit" and "stay" (this game is a great way to test their patience as well!) while you go hide. If they don't know those commands yet, have a friend issue the "sit" and "stay" command while you go hide. Once you are perfectly positioned, call your dog with their recall command. Only call once or twice until their interest is peaked, then remain silent and let your puppy's sense of smell take over. When your puppy finds you, be sure to reward them with tons of love!
Magic Cups
This game is SO much fun and is a great way to get your pup's wheels turning! Instruct your puppy to "sit" (if they know "lay down" have them do that as well!) and then sit out three identical cups. Hide a tennis ball, or their favorite toy/treat under one of the cups and let me watch you place it under the cup. Then shuffle all three cups around!
Instruct your pup to "find it," and don't be surprised if they need a little help at first. Once they get the hang of the game, however, they will LOVE it and want to keep playing some more!
Backyard Agility
Your puppy doesn't have to be the fanciest trained dog to enjoy a little obstacle course! Do a google search of typical agility courses and rig up something similar with what you have at home. Boxes with two open ends make great tunnels or "step-ups," use pool noodles to create walk-through sections, or make a jump-through out of a hula-hoop!
Help your dog navigate this fun agility course in the comfort of your living room or your own backyard! Australian Labradoodles are extremely intelligent and will love maneuvering these obstacles alongside their owner. Who knows– maybe you will like it so much that you are inspired to join your local agility group for fun!
Whatever you do with your puppy, make sure it is a positive and inviting experience. Make every game a learning opportunity and teach your puppy the habits you want them to have at an early age. Enjoy!