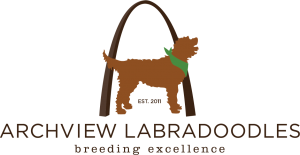 Valentine's Day is typically known for candy hearts, beautiful roses and candlelit dinners. If you are ready to change things up a bit this year, we have compiled a list of some ways you and your four-legged friend can make this Valentine's Day extra special!
Pups Leave Paw Prints on Our Hearts
Our pups can easily be the center of our household, and for some of us they are even like our children! Celebrate the love your special someone shares with the pup in their life by making a DIY gift they will cherish forever.
What better way to do that then by capturing the paw print of their furry friend forever in a sweet work of art? Keep it simple and have your pup "sign" your card this year by pressing their clean paw to a dog-safe pad of ink, or go all out with a paw print mold perfect for home decor! Your local craft store will have everything you need for either of these projects, and the best part? They are quick and easy, so you still have PLENTY of time to prepare!
One for Me, One for You!
If you enjoy spending time in the kitchen, why not cook something up for your significant other and the pup that they love so much? Bake some cupcakes or cookies for the human love in your life, and then give this easy doggy snack recipe a go for your other half! If you want an interactive evening, you could even bake these sweet treats together!
Homemade Peanut Butter Dog Treats
Ingredients
2/3 cup pumpkin puree
1/4 cup peanut butter
2 large eggs
3 cups whole wheat flour, or more, as needed
Directions
Preheat oven to 350 degrees and line a baking sheet with parchment paper.
Mix pumpkin puree, peanut butter and eggs in mixing bowl on medium-high, until well combined (usually 1-2 minutes). Gradually add 2 1/2 cups flour at low speed, beating until well incorporated. Add an additional 1/4 cup flour at a time just until the dough is no longer sticky.
Knead the dough (on a lightly floured surface!) 3-4 times until it comes together. Use a rolling pin to roll out to about 1/4 inch thickness. Use your favorite cookie cutters to make adorable shapes and then place on lined baking sheet!
Bake 20-25 minutes. Be sure to let them cool completely before sharing with your furry companion!

Date Night Has Gone to the Dogs
Does your special someone hate to be away from their pooch? We get it! We do too! If you know the person you are surprising would much rather be with their pup this evening then out at a fancy restaurant, here are some adorable options to incorporate your furry friend in the evening's dinner plans:
For this of you in warmer climates, plan a picnic on a scenic spot, complete with pup-friendly snacks to they can enjoy the fun as well!
Find local restaurants with outdoor seating and bring your dog along for date night out.
Cook a gourmet meal at home and make memories cooking together and sharing dog-friendly bits with the dog you love so much!
Order a heart-shaped pizza (most pizza chains do this on Valentine's Day!), cuddle up on the couch, and make Valentine's Day a movie night, complete with dog snuggles!
What ways do you incorporate your dog's in this special day's festivities?