Is there anything more exciting than preparing to pick up your new furry friend? Walking up and down the aisles at the pet store can be a lot of fun, but it can also be a bit overwhelming. We've summarized a list of must-haves to make life easier for new puppy parents!
The Professional Necessities
Before bringing your bundle of joy home, you need to have all of your necessary resources lined out. Identifying a veterinarian is a no-brainer, but other professional resources you may need to consider include a dog-walker, a dog trainer, a doggy day-care and a groomer.
The Basics
Now we move onto the basics you need to purchase before you bring your new pal home. Firstly, you need to select an age-appropriate diet for your new addition. Your new puppy will come with a sample of Purina Pro Plan which is what we recommend and feed our dogs. However, if you choose to switch your puppy to a new diet, you will need enough of Purina Pro Plan to make the switch a gradual process spread out over a full week. Remember, your puppy needs a balanced diet during his first year of life. Select a dog food that is nutritionally appropriate for your puppy's needs. If you have any questions, we recommend you consult with your veterinarian.
Next, you will need a place for your cuddle-bug to sleep. As we mentioned in a previous post, we think it is of the utmost importance that you crate-train your new puppy. Because of this, your puppy will join your family already acclimated to staying in a crate. You have many options when it comes to crates, but we suggest you purchase a heavy-duty wire crate that your puppy can grow into.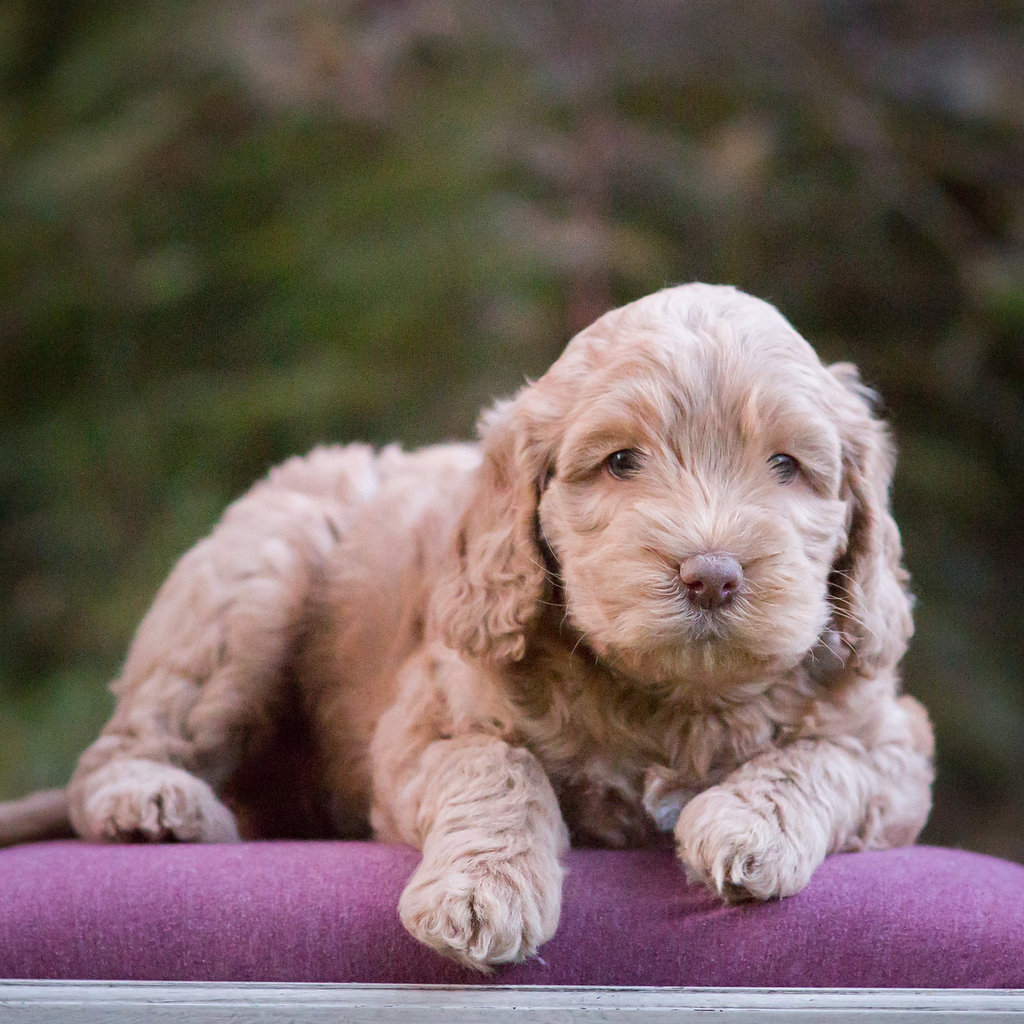 Other items you will need are:
Water and food bowls
Exercise pens or baby-gates
A collar with an ID tag and a leash
Basic medical necessities such as a needless syringe, thermometer and hydrogen peroxide
Ear cleaner and cotton balls
At home grooming necessities such as shampoo and nail trimmers
The Fun Stuff
Finally, we have come to the "fun part" of puppy preparation: buying tons of toys! Your puppy will love playing with you, but like an infant, you must be careful when choosing toys for your new addition. Avoid toys with small parts that could become choke hazards. We love Kong toys as they are virtually indestructible and are great during the teething process.
Be sure to grab some balls for rousing games of fetch in the backyard! Interactive toys are also available and are great to help your puppy keep their wheels going throughout the day. Many interactive toys release treats when navigated properly which is great for your puppy's mental development. Interactive toys and chew bones will prevent your puppy from finding his own entertainment around the house… such as your shoes! Word to the wise: if you love it, store it while your puppy is learning the rules in his new home.
There are a few warnings we want to share regarding playtime with your puppy. Never play with your puppy with a laser pointer. Not only is this dangerous for your puppy's eyes, but it can develop bad habits and obsessive behaviors. Rawhides and pigs ears are never a good idea for a puppy as they can easily become a choke hazard and they can upset your new furry friend's belly.
So run down to your local pet store and start shopping! The day will come before you know it and it will be time to bring your new best friend home. If you are still in the planning stages and haven't picked out your new puppy yet, please check out our available puppies page to see all of our beautiful babies waiting to join your family. And as always, we are here for each and every one of our adoptive families and are happy to answer any questions you might have regarding preparing your home for your new family member!