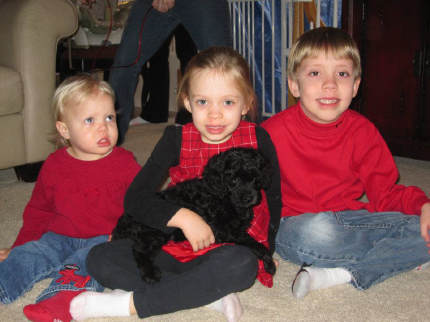 What is a labradoodle guardian home?
Australian Labradoodles are happy, fun loving, smart and loyal which makes them wonderful family members. Archview Labradoodles, LLC (AVL) is committed to raising the dogs that we breed in loving family environments. Dogs reside in our homes where they are nurtured and socialized in a family setting surrounded by children and various family pets. We believe that this is what makes AVL dogs so desirable.
Archview Labradoodles, LLC is committed to the principle that all of our dogs should live in a home environment and not a kennel setting. As our breeding program expands, we are offering a Guardian Home Program. This is a unique opportunity for selected local families to become a Guardian to an AVL Australian Labradoodle.
A "pick of the litter" puppy is personally chosen for you by us. The puppy is placed at no cost to the Guardian family. The Guardian family agrees to raise, train, and care for a AVL Labradoodle throughout the dogs breeding career. The Guardian assumes the role of "parent" while we retain ownership and breeding rights to the dog. In exchange for providing a loving home, ownership will be transferred to the Guardian family at the time the dog is retired from his/her breeding career. The dog will be spayed/neutered at our expense. This provides the dog with the stability of the same family and its forever home throughout its' entire life.
INFORMATION
Archview Labradoodles, LLC will pay all veterinary costs related to breeding for both male and female Guardian dogs.
Male Guardian dogs leave their Guardian homes for very short periods of time to sire.
The female breeding dog comes to us to be bred and then returns just before the birth to reside at Archview Labradoodles, LLC to deliver, nurse and wean her puppies. Girls will reside with us for 7-8 weeks after puppies are born. We understand it is difficult for families to have their girls gone for an extended period of time; we encourage and welcome families to visit with scheduled appointments while your girl resides at AVL. Girls' breeding careers are usually 4 litters.
BASIC REQUIREMENTS
Guardian home must be within a 25 mile radius of Glen Carbon, IL
Guardian must own residence where dog will reside
Willingness for home visits by breeders periodically to maintain contact with dog and Guardian family
Dog must not be left alone for long periods unattended
Willingness to feed diet chosen by breeder
Guardian home must possess physical fencing to provide a safe and secure environment
Attend and complete obedience classes with trainer chosen by AVL
Willingness to provide socialization with other dogs, people, children, etc.
Willingness to follow guidelines and recommendations set forth by breeders' requirements for dog's basic veterinary care such as vaccine schedules, flea & tick protection, grooming, etc.
Reliable transportation and willingness to bring dog to us when needed
Provide monthly photos and updates of pup/dog for our website
Please contact Darah Gestes to obtain more information regarding the Guardian Home Program.
archviewlabradoodles@gmail.com
Cell: 618-779-6373
Australian Labradoodles are allergy-friendly, hypoallergenic, non-shedding, athletic and social. They are wonderful family companions and make the perfect addition to any family.
Save
Save
Save
Save