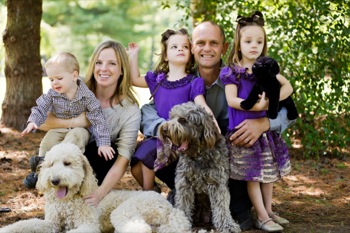 The Gestes family resides in Illinois, 20 minutes outside of St. Louis, MO. Terry and Darah have spent their entire personal and professional lives around animals. Terry is a professional thoroughbred trainer, while Darah is a Science teacher. Also, Darah worked at an animal hospital and as a groom and exercise rider through college. Darah attended Veterinary Technician School before pursuing a bachelor's degree in education. She provides the dogs and puppies with top-notch medical care and attention. She is interested in animal genetics dog training, and dog grooming.
Terry was raised on a local Illinois farm. He is one of 11 children. His family raised all sorts of animals including: chickens, cattle, pigs, rabbits, ducks, dogs, and cats. He began a career in the racing industry as an exercise rider in high school; Terry galloped horses before his school day began. Shortly after high school, Terry started training thoroughbred racehorses full-time. Terry has a wealth of knowledge in animal husbandry as well as breeding confirmation. He is an invaluable part of Archview Labradoodles, LLC.
The Gestes family decided to breed Australian Multi-generational Labradoodles after they owned their first Australian Labradoodle. Sunny. They purchased Sunny after countless hours of research of various dog breeds and breeders. Terry and Darah were very adamant about finding a family companion with an excellent temperament (especially with young children) and with a non-shedding coat. Sunny, was the perfect match! Thank you Mindi from Colonial Village Labradoodles! Shortly after the couple purchased Sunny, they decided to purchase Taylor to begin their breeding program. Taylor is their dream girl; she has a perfect temperament and excellent confirmation. Taylor is not just a breeding dog, she the beloved family companion of the Gestes family.
Terry and Darah have made a commitment to providing excellent family companions with outstanding health and temperaments. The couple has also decided to make helping other families find their "perfect match" one of the main objectives of their breeding program. The family is also dedicated to providing Australian Labradoodles for use as therapy dogs for children with special needs.