Are you on the hunt for the next four-legged member of your family? Selecting the right breed for your family's needs is number one when considering adding a puppy to your home. With so many things to take into consideration such as temperament, trainability, activity level and so much more, it is no wonder why so many people invest hours of their time researching different dog breeds in hopes of finding a perfect fit. At Archview Labradoodles we pride ourselves on pairing up the right puppy for each family that walks through our doors. In today's blog we are going to share with you what makes Australian Labradoodles a great candidate for every family!
What IS an Australian Labradoodle?
You have probably heard of many variation of doodles with the main two being Labradoodles or Goldendoodles, but what makes the Australian Labradoodles at Archview stand out from the crowd? The Australian Labradoodle was developed in 1989 by Wally Conran of the Royal Guide Dog Association of Australia (you can read an in-depth profile of the breed's history HERE). The goal was to produce a dog with the intelligence needed to be a service animal, while possessing the physical traits needed to be allergy friendly. After years of research and cross-breeding, Conran found one particular dog whose coat and saliva samples were deemed allergy friendly.
In an effort to further develop Conran's initial findings, Tegan Park and Rutland Manor, also of Australia, sought to improve upon the breed and create a genetic line that produced consistent litters with the desirable traits of Conran's original Labradoodle. During the early days of the process the Irish Water Spaniel, Curly Coat Retriever, American and the English Cocker Spaniel were introduced to the bloodlines in order to further the breed. The modern day Australian Labradoodle has been around for over 30 years and is considered a cross between a Poodle, Cocker Spaniel and Labrador, while the standard Labradoodle is simply made up of Lab and Poodle.
Selectivity is Key
With doodles all over the internet, breeders such as Archview focus on maintaining the original breed standard created by it's founders in Australia. Selecting males and females appropriate for breeding requires a huge investment of time and money. Each member of Archview's breeding stock has undergone extensive medical testing to ensure they are free of genetic defects that can later bring heartbreak to the families of our puppies. We pride ourselves on investing in dogs that will carry on all of the desirable qualities of the modern day Australian Labradoodle. We don't simply purchase a $500 Labrador or Poodle from some breeder down the road. We seek out top of the line genetics that maintain the looks, temperament, coat quality and allergy friendliness that made us passionate about this breed.
One thing that makes an Australian Labradoodle stand out from the sea of other doodles is their non-shedding coat. Many doodle breeders capitalize on their allergy friendly puppies, but the majority of standard American Labradoodles (Lab X Poodle) still possess a Poodle-like appearance with a heavy shedding coat.
Both Retrievers (Labrador and Golden) and Poodles carry the genetics for shedding. Using a punnet square, you can see all the different genetic combinations regarding shedding. The genetics for shedding are + for shedding and – for non-shedding. Retrievers carry the +/+ genetic for shedding while Poodles can either carry the -/- or +/- genetics. When you pair those two bloodlines together, the odds of getting a -/- for shedding is impossible.
With Australian Labradoodles, however, dogs who were found positive for shedding were culled from breeding stock in order to remove shedding traits from the gene pool. The years spent carefully hand-selecting each breeding dog has resulted in a -/- genetic for shedding. Australian Labradoodles are considered multi-generational or F3 crosses, while the basic Labradoodle (Lab X Poodle) is considered an F1 cross. Find out more about Labradoodle genetic lingo on our website, HERE.
Family Friendly
We now know that Australian Labradoodles are truly the cream of the crop where doodles are considered, but their genetics were not the only thing that have drawn us to the breed. We fell in love with the wonderful personality that each Australian Labradoodle possesses and we know that you will too.
Australian Labradoodles are known for their high-level of intelligence and joyful personalities. The Australian Labradoodle is easy to train and respectful of their handlers, but boasts an energetic and almost comical personality when romping around in the yard. Australian Labradoodles are eager to please and enjoy the company of their human companions. All of these qualities make this breed a wonderful family pet or service animal.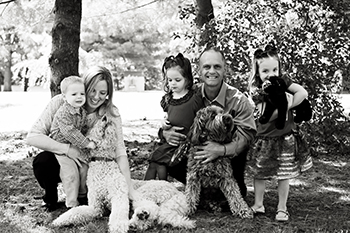 We fell in love with Australian Labradoodles after spending hours researching a variety of dog breeders and top-notch breeders. It was then that we met Sunny, our first Australian Labradoodle. We were head over heels with Sunny and knew we wanted to promote this breed and all of the wonderful qualities they possess. We are passionate about the Australian Labradoodle, and it is our mission to help you find your "Sunny" in one of our puppies.
Take a look at our available puppies page to see if your perfect fit is waiting for you!