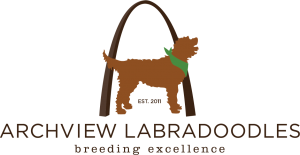 SNOW DAY! Is there anything better than a good romp in the snow with your four-legged friend? Snow can bring us lots of joy. It can also pose a handful of problems in regards to your puppy's health. In today's blog we discuss how to enjoy a walk in a winter wonderland with your pooch.
Potty Problems
If this is your pup's first snow, you may receive a mixed bag of responses. Some dogs immediately take to the snow and love to roll around and play in it. Other puppies, however, are hesitant to even walk on the snow which can lead to some bathroom issues at times. Not only is the snow cold on their tender toes, but it also blocks the scents that they associate with their potty space.
One way to help encourage your puppy to potty outside in winter weather is to clear a place in the backyard several feet wide for them to use as a potty space. This works even better if this space is covered so that your puppy is not standing out in the rain or snow while trying to potty. Make sure you clear a path to the potty place as well. That way your puppy isn't having to wade through the snow to get there!
If the weather is really poor and your pup just isn't feeling going outside, you can set up a designated indoor potty space with a puppy pad as a backup plan.
Bundle Up!
Younger puppies and older dogs have a hard time regulating their body temperature in extreme heat or cold. If your dog's coat is a bit on the longer side they may be better able to stay warm while outside. If they just recently had a grooming, however, the absence of a long coat may make them more prone to shivering.
Bundle your pooch up with a coat if you fear they may get cold! If you plan on spending a lot of time outdoors, invest in some boots for your pup too. The wet snow can cause the pads on their feet to form painful cracks or ice balls can get trapped between their toes causing irritation. Protective booties will help keep your pup happy and healthy!
Reduce Outdoor Time
Just like humans, pups can suffer from a variety of issues if exposed to extreme cold for lengthened periods of time. If you can't sit outside comfortably for more than ten minutes, then your pooch shouldn't be expected to either. Monitor your pups time outdoors and make sure that when they are inside that they are eating and drinking normally. Eating leads to the burning of calories which is what helps keep your dog warm.
When bringing your pup inside watch for tell-tale signs of overexposure to the cold such as shivering. If your pup appears to be chilled, dry them off with a warm towel or wrap them up in a blanket until they have warmed back up. Your puppy should adjust to the warmth or the cold at a steady pace. If at any time you are concerned about your dog's well-being, you should call your vet immediately. Hypothermia in dogs is very real and can be very dangerous.
Share your cute snow-puppy photos in the comments for all of us to enjoy! If you are ready to add a new puppy to your family, be sure to check out our available and upcoming litters!