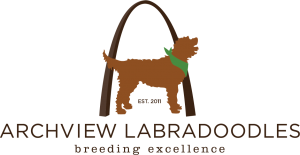 Once you have your new puppy home you are going to have a list of things you want to do with your new friend! While going to the vet may not be the most glamorous thing on that list, it needs to be one of the most important. As part of our adoption contract, we require all adopters take their new addition to the vet for a health exam within 72 hours of obtaining your puppy. This initial exam will be an assessment of your puppy's overall health and will validate that your puppy has no life threatening diseases or disabilities. We take pride in producing happy, healthy puppies and have a policy in place to protect you and the puppy in the rare case that something should pop up.
In today's blog we explain what that initial vet visit will look like and when you should take your puppy to the vet in the future.
Picking a Veterinarian
The first step to any successful first health exam is finding a veterinarian you trust. If you have had dogs before, you probably already have an existing relationship with a vet in your area. If you are a first-time puppy owner, however, you need to do some research! Reach out to local puppy groups such as dog schools, boarding facilities or groomers to get references on vets in your area who are known for going above and beyond when providing care to your pooch!
Once you have picked the veterinarian of your choice, you need to schedule your puppy's first visit PRIOR to picking your puppy up from Archview. Many vets stay very busy and may limit the number of new clients they bring in a week. Our contract requires you to have your puppy assessed by a licensed veterinarian within 72 hours of adoption, so it is very wise to have that first appointment established before your new furbaby joins your household.
The First Exam
Your puppy may be nervous in this new environment, which is understandable! Try and keep the visit as relaxed as possible. Because your new puppy is still susceptible to contagious diseases such as parvo, it is very important that you do NOT place them on the floor of the veterinarians office. Hold your puppy and keep them calm by offering lots of love and praise.
Your vet will examine your puppy's eyes, ears, heart, coat, lungs, teeth and gums during this first visit. They will take your puppy's weight and take their temperature to make sure they do not have a fever. Your pup will also receive some basic puppy vaccinations as well to help get him/her on the right track to health! There will be follow-up vaccinations 2-4 weeks after the initial visit, so be sure to schedule that appointment before you head home.
Follow-Up Exams and Emergencies
Puppies will get lots of vaccinations in their first year of life, so it is important to stay on a schedule with your vet to ensure they are protected. Here is a list of recommended vaccinations and the age when your puppy should receive them:
6-8 weeks of age: DHPP and Bordatella
10-12 weeks of age: DHPP
12-24 weeks of age: Rabies
14-16 weeks of age: DHPP
12-16 months of age: Rabies, DHPP
Like babies, puppies are very susceptible to illness as their immune system grows and develops. It is very important to watch out for warning signs which may tell you your puppy isn't well. Catching these illnesses in the early stages are imperative to preventing serious illness or death. Make sure you have established who your emergency veterinarian will be after business hours. Some clinics offer a 24/7 hotline where you can report after hours emergencies. If you live in a larger city, there may be a 24 hour animal hospital nearby where you can go in times of emergency.
Here are some warning signs that your puppy may not be well:
Vomiting or diarrhea (It is important to note that an upset belly may be normal when transitioning to a new food, but chronic or excessive diarrhea is not normal. Always phone your vet if you are ever worried!)
Loss of appetite
Runny nose or oozing eyes
Excessive thirst or irregular urination
Change in demeanor (such as a playful puppy become lethargic or a normally happy puppy becoming inexplicably grumpy)
Having a close relationship with the team at your veterinarian's office will put your pup on the right track for a healthy life. And as always, feel free to give us a call if you ever have any questions regarding your puppy's health or development!