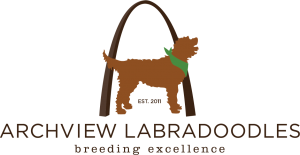 Just like with kids, your puppy goes through development stages as they mature. These stages are similar to the ones you may already be familiar with such an infant, toddler or teenager. Today we are going to outline the different stages of puppy development and what your future pup is up to during each stage of his/her life.
The Neonatal Period
From birth to two weeks of age, your puppy is in their neonatal period. Like a newborn child, this is the stage where your pup is most reliant on their momma. They can touch and they can taste, but their eyes and ears are still sealed closed.
During this phase, your pup will resembled a waddling potato a little bit… but a cute potato! While it might not seem that your puppy is getting much done during this phase of their life, they are actually picking up on crucial social and survival skills during these first few weeks of life.
But… mostly they are just eating and sleeping!
The Transitional Period
From weeks two to four, your puppy transitions into a toddler! They can walk, they can talk (and boy oh boy are those puppy chirps cute!) and they even start wagging their tail. Your puppy will begin to get his/her first teeth and begins seeing, hearing and developing their sense of smell.
At this point in their life, your puppy will begin interacting with his brothers/sisters and his momma. Around three weeks of age, your puppy will be introduced to solid food for the first time. This is the start of the weaning process! Puppy chow is soaked in warm water to make it more appealing and palatable for your pooch.
The Socialization Period
We have talked a lot about this critical stage in your puppy's development in prior blogs. From weeks four to twelve is when your puppy's personality begins to blossom. We take every step possible to socialize your puppy during this phase of their life. We highly encourage you to do the same once your puppy has joined your family.
Your puppy will remain with his/her momma until eight weeks of age. While your puppy is weaned at this time, they are still learning ever-important socialization skills from their momma. If mom is wary or fearful of people, your puppy might be as well. However, if mom is openly excited about spending time with her two-legged friends, the puppies are going to want to be friends with them too.
During weeks nine to twelve you enter what some refer to as the "golden time" for training opportunities. This is the perfect time to set ground rules for potty-training! This is the point in your pup's life where they are paying close attention to their pack around them. As their new family, you will be part of your pup's pack and can influence their ability to learn new skills heavily during this time.
In part two of this series, we will spend ample time breaking down the final stages of your puppies development throughout his/her life. If you haven't added a four-legged friend to your family yet, check out our available or upcoming litters to join the Archview family. We have tons of resources like this blog and more to help make puppy ownership a smooth transition.