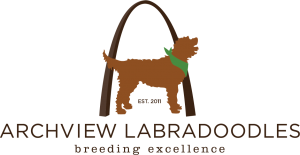 Earlier this week we began explaining the stage of puppy development from birth. We highlighted the neonatal stage, the transitional stage and the socialization stage. Today we are going to expand on the later stages of life and what to expect from your pup as he/she matures.
The Ranking Stage
If your pup was previously an infant, then a toddler, then this is the "elementary school" period of your pup's life. This period can be a little testy at times, depending on your pooch's personality. From three to six months of age, your pup is deciding where the hierarchy in your household lies and what buttons they can push.
Your puppy will have grown into his/her own stage of independence and may even feel a bit bratty at times during the ranking stage. This is where structured training will keep the household at peace. Your pup will be heavily influenced by his playmates, both two and four-legged. If you have other dogs in the house, this is when your pup will learn about pack hierarchy and where they fall in the family line-up. Don't be surprised if your other dogs start to put your pup in his/her place.
As you are also seen as a member of your puppy's pack, you need to also reaffirm to your canine that you are the pack leader. Obedience training is necessary to maintain your pup's confidence in you as their leader.
This is also the stage where teething is usually at it's worst. We recommend keeping tons of Kongs on-hand to prevent the destruction of things you might love.
The Adolescent Stage
We broke down the adolescent stage in-depth in a previous blog, so we will share the highlights of this stage below:
This is the teenager phase– ick!
This phase is one of the longest, running from six months of age to eighteen months of age.
Your pup may appear gawky as they grow into all of their limbs.
Set clear boundaries at home to curb stubborn behavior.
This is the critical bonding time with your pooch. So while they might test you, always be patient and fair with them.
Basic obedience skills are necessary during this time.
Teething isn't quite over yet, but we are getting close to the end!
Socialization is still very critical during this stage of life.
Congratulations! You have survived puppyhood!
From eighteen months on, your puppy is now into adulthood. Whew… are you exhausted yet? Puppyhood is tons of fun, but definitely requires some work on the behalf of the puppy parents. From eighteen to twenty-four months, your dog may still exhibit some awkward teenager like behavior, but for the most part they are all grown up.
The way you handle each of these super important stages of life will impact the dog your pup will grow up to be. We cannot stress enough the importance of being firm, but fair and always kind. Never resort to fear-based training practices as it can lead to anxiety-induced aggression behaviors later in life. We feel it is very important that each of our adopters utilize the help of a licensed dog trainer to help guide them towards proper training practices. Each pup is different, just like humans, therefore a one-size fits all approach to training just won't work.
As always, we are here as an added resource for all of our adoptive families. There is no such thing as a dumb question and we love to help you walk through these fun, but sometimes challenging, phases of puppy ownership. For tons more information on our program and puppy tips and tricks, be sure to check out all of our other blogs.