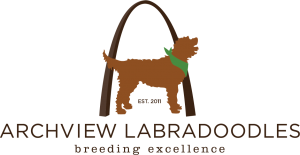 Australian Labradoodles come in a wide variety of sizes, coat textures and coat colors. With so many colors to choose from, it can be hard to decide which you prefer! In today's blog, we discuss some of the more common solid colors you will see in the Archview Labradoodles breeding program.
50 Shades of… Red?
A red or gold based coat is definitely a fan-favorite among Archview families, but there are many variations of this shade! We commonly see Caramel and Apricot in our litters.
This side-by-side is a great representation of the differences between the two. The puppy on the left has a black nose, indicating that he will be a gold or "apricot" puppy. These puppies may even look red for a period of time, but sadly the richness in coat color often fades. There are many shade variations in the apricot category, and it is so named because of its resemblance to the inside of a ripe apricot. Apricot puppies will always have a nose that is black in color.
The puppy on the right, however, has a red nose. This red nose indicates that the puppy on the right is a caramel puppy. Caramel puppies can also vary in coat color from light yellow to an almost red hue. The Australian Labradoodle Association of America recognizes multiple shades of caramel such as caramel ice, caramel cream and straight caramel. Your caramel puppy's coat may change over time as they age to resemble one of these variations.
Sweeter than Chocolate
Another more prominent, and often popular, color that we see in our breeding program is chocolate. Chocolate puppies will have a little chocolate nose and will be rich in color at birth. However, most chocolate puppies do tend to fade into different variations over time. Common color variations include parchment, cafe or lavender.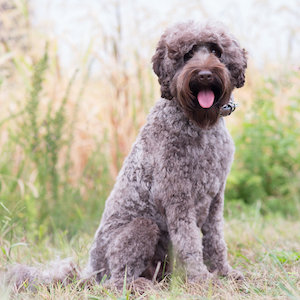 Black and Blue and All Things In Between
We also see black quite often in our program, but like most colors, these puppies have the tendency to morph into a new shade as they grow older. A true black Australian Labradoodle will have no sprinkling of other colors in their coat.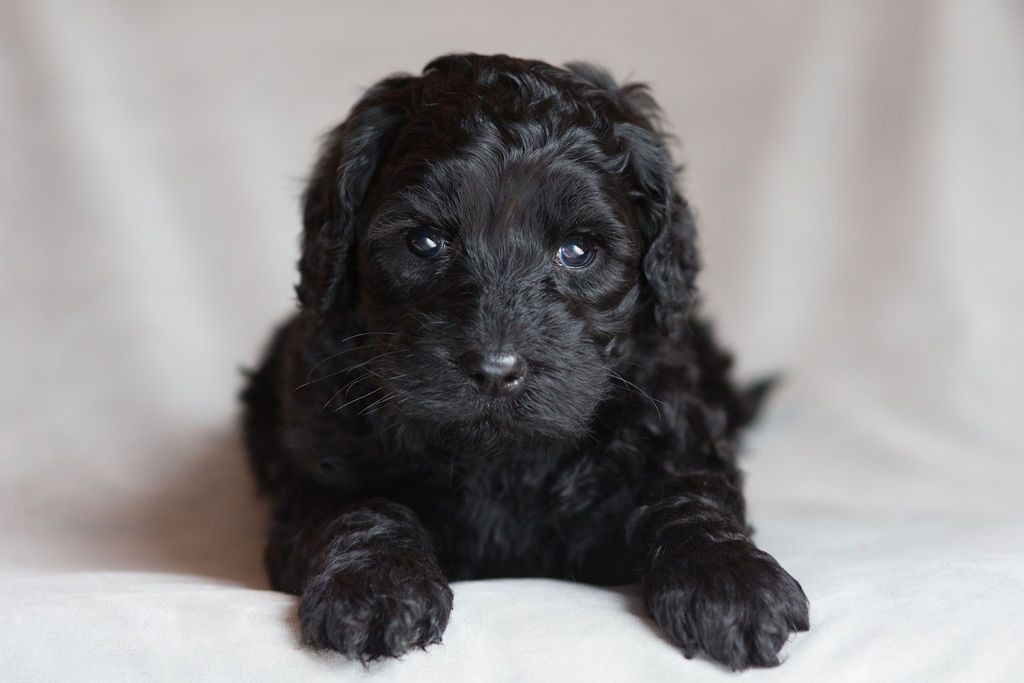 Variations that can pop up over time in black-coated puppies are blue and silver. Both of these color variations are from an increased presence of gray tinting in the dog's coat. They are quite beautiful coat colors and do not mean that the dog is older in age. Typically, most coat changes gradually appear between one and three years of age.
The big take-away here is that certain colors cannot be guaranteed as coats can change over time! You can take a look at the parents of your puppy to see what possibilities may come, but only time will tell what beautiful color your puppy may morph into. One thing is for certain though, all of them sure are beautiful!
Stay tuned- We will discuss the possibility of multi-colored pups in next week's blog!