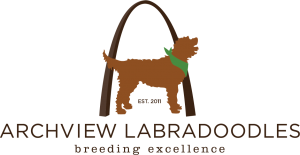 One of the most important tenants in our program is that we provide a loving, caring environment for each of our Australian Labradoodles. With that in mind, we decided to build our program based around Guardian Homes, families who would love and raise our breeding dogs during their careers and continue to care for them upon retirement. Today we thought we would do a basic outline of the guardian program to better explain it to you!
How Does It Work?
The beauty of being an Archview Guardian is that if you can follow some very simple guidelines set forth by Archview, then you receive an ALAA registered Australian Labradoodle at no charge to you.
First things first, you must meet some basic criteria to be considered as a Guardian family including owning your place of residence within 25 miles of Glen Carbon, Illinois. You must also be willing to adhere to policies set in place regarding diet, training, socialization and veterinary care.
Applicants who meet all requirements and pass the pre-screening will be allocated a puppy of Archview's choosing for no charge. From there, you get to raise and train the puppy from day one! You are essentially the god-parent of the dog during its, while Archview maintains ownership throughout its breeding career. Once the dog retires from breeding, we will have the dog spayed/neutered and full ownership will be transferred to your family.
What About the Breeding Period?
We know your Australian Labradoodle is a loved member of your family, so we try and keep things as simple as possible during times of "honeymoons." Male and female guardian dogs will leave their homes for brief periods of time to honeymoon.
Once a mother is ready to give birth, she will return to Archview for 7-8 weeks to raise and nurse her babies. Once the puppies have been weaned, she can return home to her family! Guardian families can visit their dog during scheduled visitation hours while she is raising her babies at Archview!
What Makes a Good Guardian?
Guardian families come in all shapes and sizes! Whether you are a single adult or a growing family, guardianship is a great way for your family to add an Australian Labradoodle to your home at no charge.
While your initial investment in a dog is "free," you will be responsible for all costs regarding basic, daily care of the dog during this time. We also have some basic rules that all potential Guardians must follow:
Guardian families must own the residence in which they reside and must possess a physical fence around their property. Guardians may not leave their dog unsupervised or crated for long periods of time.
Guardians will adhere to mandates set forth by Archview to include dietary needs, veterinary care, grooming and training. We want our mommies and daddies to be excellent representations of the breed, therefore we require our breeding stock to attend an AVL approved trainer for basic training.
You must have reliable transportation and be willing to bring your dog back and forth from the AVL homestead as needed for breeding purposes. You must also be willing to accommodate home-visits by the breeders periodically.
We also require that our Guardian families maintain contact with AVL for general updates and check-in's. We love receiving photos from our Guardian families that we can share on social media, so we may ask you to snap a photo of your pooch every now and then!
You can find out everything you need to know about Guardianship HERE.
If you are interested in becoming an Archview guardian, please email info@archviewlabradoodles.com for more information.