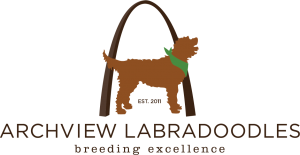 With the new year on the horizon, we took the time to compile a list of 8 things we think you should do with your Australian Labradoodle in 2020! Let us know which one of these things you plan to add to your agenda!
1) Go for a Hike
Australian Labradoodles LOVE to run and play, what better way to spend time together then while on a hike? Find your nearest State Park, invite some friends and pack a lunch. Go enjoy the day with one another and soak up nature's beauty!
2) Make a Puzzle for Your Pooch to Solve
One of the best things about Australian Labradoodles is their intelligence level! These dogs LOVE to play, and they especially love solving puzzles. So in 2020, dream up a whole new puzzle for your pooch to solve. Take cardboard boxes and build a maze, create a "hide-the-treat" toy that they have to navigate to get their favorite treats, or search the internet for other awesome ideas!
3) Host a Puppy Play Day
All dogs love the company of others, so we challenge you to host a puppy party in 2020! Celebrate your Archview Grad's bday, host your own football "tail"gating party, or just get the neighborhood pups for a day at the dog park.
4) Take Your Dog to Work
For those of you lucky enough to have some flexibility at work, organize a bring your dog to work day so your pooch can see where exactly you go off to all day and then come home with those unusual smells. To make the day as seamless as possible, pack some treats, a water bowl, a puppy gate, their favorite bed and a toy or two so your pooch feels right at home.
5) Play in the Sprinkler
Most Australian Labradoodles LOVE the water, so why not make a fun day out of it? Set up a sprinkler in your backyard and enjoy romping in the rain with one another. Sometimes your local pools will organize a puppy pool day, so you can really capitalize on that love of water with one another!
6) Walk in a Parade
Does your community host local festivals with parades? Organize a puppy march and sign your pooch up! Toss out doggy treats instead of candy to all of the town puppers, you will be the new favorite dog mom or dad in town!
7) Go on a Pup-Cation
Everyone loves a good vacation, so why not organize one that your pups can go on? Rent a pet-friendly hotel room or cabin, or set up camp at your favorite local campgrounds. Plan activities that your pup can enjoy. If there is anything better than getting away from the responsibilities of life, it is doing it with your four-legged friend by your side.
8) Throw a Puppy BBQ
Do you love to grill? Your dog sure loves when you do, so why not have a puppy barbecue that your dog can enjoy? Invite your family and friends, cook up some yummy steaks or hot dogs and spend a fun afternoon with the ones you love. Bonus points if you make some "pupsicles" for all of the dogs to enjoy!
Kick off 2020 on the right foot by planning some of these new activities for you and your Archview Grad! Do you have other suggestions? Share them in the comments! Don't have a pooch to enjoy these activities with? We can help you with that! Take a look at all of our available and upcoming puppies HERE.