If you have pet-related hair or dander allergies, you have probably considered adding a doodle to your family. There are many common misconceptions regarding doodles of all kinds, with the largest being that they are completely hypoallergenic. Unfortunately, this isn't the case, especially in the instance of first-generation doodles. While our multi-generation ALAA registered Australian Labradoodles are not hypoallergenic, they are allergy-friendl.  Most families with mild hair or dander allergies do exceptionally well with our puppies. Today, we are going to share with you the truth about hypoallergenic dogs and what you should consider when shopping for your new addition.
Hypoallergenic Versus Allergy Friendly
When you look up the term "hypoallergenic" in the dictionary you find this definition:
(especially of cosmetics and textiles) relatively unlikely to cause an allergic reaction. 
You can find loads of research on hypoallergenic products, but not all of it comes from a reliable resource. In an article by James T C Li, M.D., Ph.D. for the Mayo Clinic, Li writes:
"There's no such thing as a hypoallergenic dog breed, although some individual dogs may cause fewer allergy symptoms than others.
Many people think that pet allergies are caused by a dog's or cat's fur, but the real source of pet allergies is often a protein that's in the saliva and urine of dogs and cats. This protein sticks to the dead, dried flakes (dander) from your pet's skin."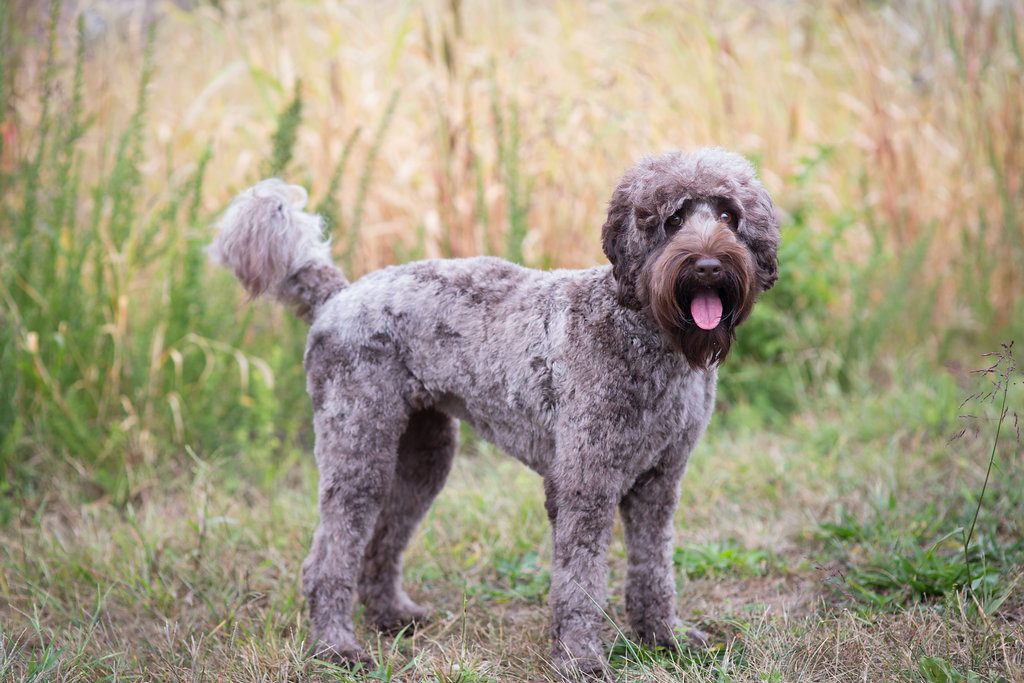 The first thing to consider when shopping for an allergy-friendly puppy is if your allergy is hair based or saliva based. Saliva allergies are trickier to work with. We highly recommend that anyone with a saliva allergy spends time with our puppies beforehand to make sure they are a good fit.
However if your allergy is hair based, one of our allergy friendly multi-generational Australian Labradoodles may be a good fit for you! ALAA registered Australian Labradoodles are backed by generations of research to produce a dog that is allergy friendly.
Different Hair Coats
There are three different types of hair coats in doodle breeds: fleece, hair and wool. The hair on a wool coated dog is similar to lamb's wool and will resemble that of a true poodle's coat. The fleece coat is soft and can either be straight wavy or spiraled and is very easy to manage. Both fleece and wool are allergy friendly!
Dogs with a hair coat, however, are not allergy friendly. This coat is most commonly seen in earlier crosses of the breed such as F1 or F2b and resembles that of a lab. This coat does shed and will not be suitable for someone seeking a low-allergen companion.
Find a Breeder You Can Trust
Unfortunately, many doodle breeders are either misinformed or intentionally dishonest when they market their puppies as hypoallergenic. Doodles that are F1, F1b or F2 (click HERE to learn more about the different generations of doodles) are not considered low-shed and carry the risk of aggravating your allergies.
When buying a puppy, always do your research! Find a breeder that is knowledgeable about the breed they are producing and that is happy to share that expertise with you. At Archview Labradoodles, we have dedicated years to learning about and maintaining the standards of the Australian Labradoodle. You can rest assured that if you consider purchasing an Archview puppy, you will be provided with all of the educational tools you need to make a well-informed decision.
We have several adorable puppies ready to join to your family. Take a look at our current and upcoming litters here!