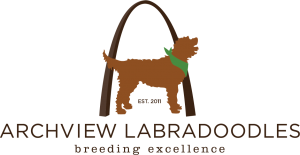 It is time to deck the halls and hang the stockings with care, but do you know how to keep Christmas safe for your four-legged friend? Check out these crucial decorating tips this Christmas season to keep your puppy safe and sound come Christmas morning.
Trimming the Tree
Decorating the tree is an iconic Christmas tradition, but keep in mind that your pup might think your tree is one big chew-toy. Real trees might feel like a great place for your pup to "do his business," especially if he is in the marking state. Artificial trees don't feel so outdoorsy and make prevent any unwanted accidents. If you do opt for a real tree, be sure to sweep the area once a day. While pine needles are not toxic, they are sharp and can lead to serious stomach upset if ingested.
Either way, it is important to invest in a secure base to keep your pooch from accidentally tipping the tree over out of curiosity. It is always wise to place your tree in the corner to limit their access to the tree!
You can set up "doggy-deterrents" around your tree by hanging noisy ornaments, cans full of beans or aluminum foil from the tree's bottom branches. These things will make noise and alert you to your puppy's presence and may keep them from playing around your tree. Be warned though, if you have a kitten they may LOVE these objects!
Be Delicate with Decor
When hanging your lights, make sure that extension cords are out of reach. You never know if they might become tempting to chew on. Hide your cords beneath the tree skirt or have them up and out of reach for your pup's safety. Tinsel is also very enticing to your dog and, if ingested, can cause a stomach blockage. Hang it high to keep your pup safe this holiday season!
If you have ornaments that hold special meaning or are especially fragile, be sure to hang those higher up on the tree. Low hanging ornaments can fall victim to happy, wagging tails or curious minds. Ornaments that might shatter could cause injury if your pup decides to snack on one!
Beware of toxic plants that often come out around the holidays. Holly, mistletoe and poinsettias can all be potentially toxic to your dog.
Ground Rules with Guests
Your house is bound to be busy with friends and family coming around. Keep your puppy stress-free by wearing them out about before your visitors come over. Take them for a long walk or enjoy some games in the backyard. A tired dog is less likely to get excited or anxious as your house fills up with strangers!
Be sure to set some ground rules around the house for your pooch. These rules should not deviate from your normal schedule. If you do not feed your pup around the table, make sure that all of your guests understand that to prevent the development of naughty behavior. It may even be wise to put your pup in his/her crate in a separate room to eliminate the temptation to beg! Your pet may actually love a quiet place to retreat to among all the hustle and bustle. Lastly, remember what foods are hazardous to your pet (we previously outlined this in another blog!) and keep them far away.
It is fun to celebrate this special time of year with your pet! Sneak a little extra something special for them in a stocking and be watchful at all times and you are bound to have a happy holiday season.